Black River
Good things come from
Small Towns
Black River. You can't help but feel strongly about the place where your family has lived for 7 generations.
My hometown is a place where you can relax and breathe deeply, and take time to enjoy life's small pleasures.
The town sits at the mouth of the river from which it gets its name. Up to the early 20th century it was a bustling commercial centre at the forefront of many developments taking place in Jamaica. You'd never guess it now, but it had the first house in Jamaica to get electricity, the first telephone exchange, received Jamaica's first registered car, and had the best racetrack on the island.

You can see traces of the town's former glory in the 18th and 19th century buildings still standing in the town.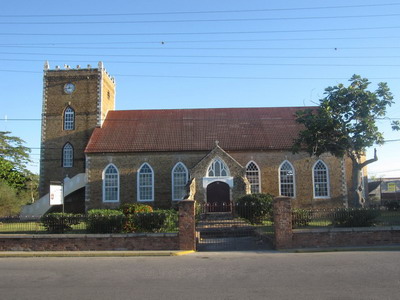 What drove this development? Logwood. This tree was used to produce natural blue-black dye which was in demand in Europe. The logs were floated down the river, and the town was the main port from which they were shipped abroad. With the development of synthetic dyes, the industry declined and Black River's life in the fast lane slowed to a crawl.
And although we may moan and groan about the limitations of our small town, we love its peaceful nature and calm pace. We feel we're an important part of Jamaican history. Click here for great pictures and information on Black River history.
Things to do in Black River
The town today is a picturesque seaside haven for both residents and visitors.
Here are some of the things you might like to try if you spend some time with us...
Take a trip up the Black River - see crocodiles, water birds, mangroves, water lilies on a 3 mile journey up Jamaica's longest navigable river. There are 3 established safaris, which offer tours up the river, but my favourite is Irie Safari 876-472-4644 / 876-847-2128.



Click here for more pictures of the river and the town. Crocodiles included!

Go fishing - There are many spots by the river or sea where you can throw your line. Dee's Marine Shop has supplies. Or you can charter a fishing boat to take you out to sea, or on the river. Call Lando (willing, able and pleasant) at 876-387-8008. See these

photos of a boat ride in the bay

.



Birdwatching - Every afternoon as the sun starts to set, white cattle egrets, herons and other waterbirds make their way home to the mangroves which line the shores of the river. By dusk the trees are covered with hundreds of birds. Bring your repellant, as mosquitos come out at dusk too, and their favourite food is tourist! And any garden with flowers will have birds. In my yard alone there are hummingbirds, a patoo (owl), a woodpecker, nightingales, quits and many I can't identify. Irie Safari does birdwatching tours on request.
Walking Tour - Way Back When, Black River Heritage tour is a fun, insightful walk that explores the history and culture of Black River and the wider Jamaica. Great for both locals and tourists. Full disclosure : it's run by me! Call 876-319-3356. 
Take a morning or evening walk along the sea wall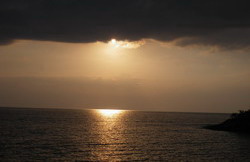 In the early morning the sea looks like textured blue glass. In the middle of the day it gets moody, and it's a really hot walk. But at sunset the water is golden, and in the moonlight, sparkles bounce off the tops of the waves.
The sunrises and sunsets range from beautiful to outrageously beautiful, the colours from soft peach to crimson.

Visit historic sites - St. John's Parish Church is a treasure trove of Jamaican history. Make sure to read the gravestones which date as far back as 1779, and the impressive monuments inside the church. Notice the 100 year old working pipe organ, the arches which are a theme throughout the building, the tiling, and the 175 large granite slabs in the perimeter wall. 
Sunday Service at 8 am is a cultural and often moving experience, British and African heritage fused in worship.
The former Farquharson Wharf, near the Black River bridge, was the site of a thriving slave auction. Notices were published in the papers describing the slaves to be sold, and the landed proprietors would arrive in their tandems to make their purchases. Today there is a monument to the Africans on the Zong, a slave ship whose Captain drowned scores of captured Africans in order to collect insurance.
Scrumptious Seafood -

All on the same stretch of beach east of the bridge, you'll find Cloggy's, Las Vegas Cafe, and Sandbar, serving fish, shrimp, crab and lobster Jamaican style.
Live music

- On a Sunday night, the house band at Las Vegas Cafe delivers local and international hits. You may be surprised at the variety of songs that make it big in Jamaica. Not just reggae!
Go to a session - Despite the town's quiet disposition, we do live up to the Jamaican reputation of having lots of bars per square mile! Open every night and day, on the weekend one or more of these is likely to have something going on. Waterloo is a pretty safe bet on a Friday night. On certain weeknights there's likely to be a Round Robin dance somewhere in the vicinity. Just ask.
Go to the beach - Parrottee, 10 minutes drive east of the town. Heavy Sands, 10 minutes walk east of the Black River bridge is great for long walks on the beach and watching fishermen pull in their catch. Swim here with care, as the occasional croc has been seen swimming close to the river mouth. Bluefields is about half hour to the west, in the neighbouring parish of Westmoreland.
Genesis Steel Band - Rehearsal at the Parish Church some Friday nights at 7pm. Visitors are welcome to listen, and if you ask nicely, they'll even let you try out the steel pans.
Stargaze - As a child, on moonless nights I learned the constellations from my father and my older sisters. Orion, Seven Sisters, Big Dipper, Southern Cross all on display for free. Really beautiful on a clear night.

I'll let you discover some things for yourself. But be sure not to miss Sunrise Bakery's coco bread. Their peg bread and hardough bread are really good too. There are also a number of small restaurants offering tasty local food.

And if you time your visit for Easter (beaches are at their best at that time), you won't want to miss our hugely popular Flower Show.

Black River is a good base for visiting other interesting places in St. Elizabeth, such as Accompong, YS Falls, Treasure Beach, Appleton Estate, Bamboo Avenue, Lover's Leap, Pelican Bar.
Return to Real Jamaica Vacations Home Page