Maggotty Falls
The hike to Maggotty Falls is no walk in the park! I can safely describe this spot as being in the very innards of St. Elizabeth.
Be prepared to slip a little, slide a little, get dirty, and get wet. You don't need to be super fit to do this, but being moderately fit will certainly make it easier. The trails you have to take are not conveniently tailored for human traffic. This is raw, untouched Jamaica, AT YOUR OWN RISK.
Using the word "Jungle" in describing Jamaica has always felt so contrived. But even I have to admit that this trek takes you, if not into the jungle, through jungle's first cousin.
There are different routes to take, with different cascades to see.
My first experience was "Ego Falls". Very beautiful to behold, but you have to be willing to to do some work to get there. It's about a 45 minute walk through some untamed countryside to get down to the falls, and an hour to come back up.
Here are some pictures.

Before the trail - looks innocent enough!

Starting off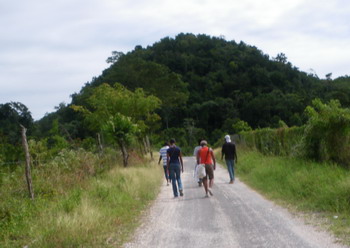 The easy part of the trail - a wall to walk on!

What's that in the distance?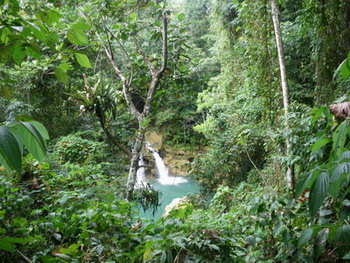 At the bottom. Definitely not man-made!
My next experience of the falls was even better. We took a different trail - over a wooden pipeline, across a field, through thick vines and narrow pathways, when you could find them.
The thrill for me was that the river was always nearby - you were almost always able to see it, and if not, you could hear it. So many small and not-so-small cascades, dotted here and there. Absolutely wonderful. If you don't believe in God, this trip should make you a believer.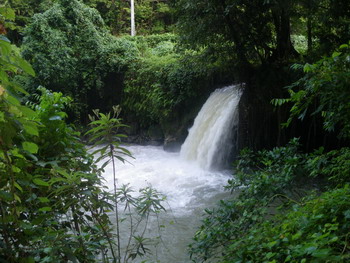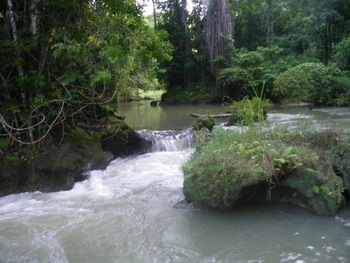 My parish, St. Elizabeth, is such an incredible place!
To take this hike, contact Apple Valley Park in Maggotty.
Return from Maggotty Falls to Home Page