Way Back When
Black River Heritage Tour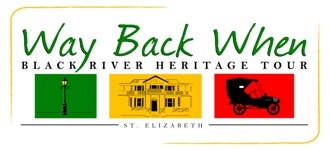 Way Back When (Black River Heritage Tour) explores the historic town of Black River, capital of St. Elizabeth.
The tour digs deep into the colourful past of this small town, best known for its beautiful river, and the fact that it was the first town in Jamaica to be lit by electricity.
Step back in time and get to know the events and the characters that helped shape Black River's history from the 17th century onwards. You'll find a cast of progressive thinkers, quirky civil servants, strong enslaved individuals, merchants, mistresses, soldiers, and ordinary townspeople with an irreverent sense of humour.
Here's a quick look at one of our walks. If you hover the mouse pointer over an image, the slide show will pause.
You'll hear stories that have been handed down through generations. You'll laugh, and you might even feel to cry.
You'll experience the flavour of Black River today as people go about their everyday business, in a town which has seen its fair share of ups and downs. As you walk through the streets of the town, our exploration will uncover a lot about Jamaica's past.
This trip through time is a walk which lasts just under two hours, including rest stops. The actual time spent walking is less than an hour - you'll be so involved you won't feel the time pass!
The walk begins at the centuries-old Parish Church and ends at Waterloo Guesthouse, the 19th century landmark which was the first house in Jamaica to be powered by electric current. The bar at Waterloo is open for business!
It's advisable to wear a hat, lightweight clothes, comfortable shoes, and sunscreen. Please bring drinking water - in an effort to reduce plastic pollution, we no longer provide bottled water.
For pricing and further information contact us at 876-319-3356, email waybackwhenwalk@gmail.com.
Way Back When
Tell us about your experience of Way Back When, Black River Heritage Tour.
What Other Visitors Have Said
Click below to see comments from other visitors...

Return from Way Back When to Real Jamaica Vacations