Travel Tips for Jamaica
I thought it might be helpful to compile a few travel tips for Jamaica. In the excitement of visiting a new place, it's easy to overlook some of the practical details that would make vacation time a lot easier.

Jamaica Travel Tips - Arriving on the Rock
There are two international airports - Norman Manley International in Kingston, Sangster International in Montego Bay.
Getting to and from the airport is easy. Buses, coaches taxis and rental cars are available at both airports. Most hotels will arrange to have you transported, if you request it.
Facilities at the airports include shops, restaurants, bureax de change, ATMs, car rental companies, cell phone sales.
Departure Tax is J$1800 (equivalent to approximately US$16). This is usually included in the cost of airline tickets.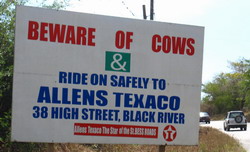 If you're not going to be staying in an all-inclusive hotel, you'll want to get out and around. If you decide to rent a car, please remember that driving in Jamaica may prove very different to your experience elsewhere.
Remember to drive on the left.

Seat belts must be worn by the driver and front seat passengers.

Don't be afraid to use your horn, especially when overtaking. We expect it.

Speed limit is 50km/hr in built up areas and school zones. 80 km/hr in other areas.

Look out for potholes. There are many, and they are often of the large variety.

Look out for stray animals (cows, donkeys, goats), especially on country roads.

Before driving at night, ask advice on the safety of the route before you set out. Know your route beforehand, and have company with you if possible.

Lock your car doors if you are leaving your car unattended.

Do not have marijuana in your vehicle. Police perform regular traffic checks, and marijuana is an illegal substance. A good thing to remember at all times.

Outside of Kingston, the bus service is mostly unscheduled. Route taxis, which you simply flag down on the road, take the place of buses in many country areas. These will be shared with other passengers, with a set fare per passenger for a specific distance. Find out the fare to your destination before getting in.
Travel Tips for Jamaica - Dress Code
For the most part, bring along cool, casual clothing. It's a good idea to include a light jacket and pants/long skirt, as evenings may get cool, especially in the months from December to February.

Outside of resort areas or on the beach, a swimsuit is not considered appropriate clothing. A few businesses will post their dress code in a notice on their premises, but most require at least a shirt and shorts. Many hospitals/doctor's offices do not allow entrance if you are dressed in sleeveless shirts or shorts.

Bear in mind that you may decide to attend an event where you want to be well dressed. Pack with this in mind.

Nude and topless swimming are restricted to specific areas. Ask before you shed clothes!
Travel Tips for Jamaica - Health/Emergency
There is no need to travel with drinking water. Much of the island's water supply is potable, and bottled water is easily available.
Most street food is well prepared, and quite safe to eat. Jerk chicken, corn, pepper shrimp, fruit are some of the delicious foods sold on the roadside.
Jamaica has no poisonous snakes. The most venomous creature that I can think of is the scorpion, which is not often encountered.
It's a good idea to travel with insect repellant and sunscreen, or buy some soon after getting here.
In case of a medical emergency, try getting the affected party to the hospital or doctor yourself, as many areas do not have an emergency ambulance service.
Police emergency number is 119 (not 911).
Travel Tips for Jamaica - Business/Communication
US currency is accepted at most shops and businesses in resort areas, and larger businesses in urban areas. Smaller shops and rural businesses may not readily accept foreign currency. The same applies to international debit and credit cards.

Many business places close on a Sunday. Most government offices close on Saturday and Sunday. Banks operate Monday to Friday. If you need to change currency on the weekend, try using a cambio, most of which operate within other businesses such as supermarkets.

There are many Western Union locations around the island, in case you need money sent to you from abroad.

General Consumption Tax of 16.5% is added to most consumer goods and services. Some businesses (especially in rural areas) include the tax in their ticketed prices, some don't. You may want to ask if GCT is already included, before you make a purchase.

The number of locations offering wireless internet access is increasing, but still limited. All public libraries islandwide offer free internet access.

Jamaica's telephone area code is 876.
Travel Tips for Jamaica - Weather/Climate
The coolest months are December to February, with February usually having the coolest temperatures. Expect highs in the mid 80s (F), and lows in the high 60s, depending on your location. In the mountains, night-time temperatures may fall as low as mid 40s.
The hottest months are July and August. Expect temperatures in the high 80s and low 90s. It may feel even hotter due to humidity.
Although the official hurricane season is June to November, chances of a hurricane hitting the island during much of that time are extremely slim. Historically, the worst hurricanes have hit in late August and the first half of September. Happily, this has not happened very often!
Frequent and sometimes heavy rainfall should be expected in the rainiest months, May and October. December to February/March can be very dry. In other months, there are regular afternoon showers.
Travel Tips for Jamaica - General
Tipping - in tourist areas and larger restaurants, gratuity is usually included on your bill. In the countryside, and in small establishments, tipping is left to the discretion of the visitor.
Openly homosexual behaviour is not well tolerated. It will cause stares, comments, and in a very few cases, violence. In recent times there have been attempts from North America and Europe to force acceptance of homosexual behaviour upon Jamaicans. Most Jamaicans view this as a type of cultural imperialism.
Jamaicans appreciate it when you say "Good Morning" or "Good Evening/Night" when you enter a room. "Good Night" is used both in greeting and in taking leave.


I hope these travel tips for Jamaica will prove useful to you on what's sure to be an unforgettable vacation. Be sure to visit the most wonderful parish in Jamaica, St. Elizabeth. Make it your base of operations!

Return from Travel Tips for Jamaica to Home Page